Dunbar Town House and Museum gallery is well known for its witch's hat tower and its sun dials, clock and the bell. These items have been crucial to the town's life since as long as 16th century. Dunbar Town House was constructed at the end of 16th century and is now 400 years old. This Town House is considered to be the country's oldest functioning Council Chamber.
Dunbar Town House, Museum And Gallery
Dunbar Town House Building houses both a Museum and a Gallery on its first floor. Therefore, when you visit this place you will be able to explore the local history while exploring the changing exhibitions by the local artists. It also accommodates space for a local history display area and a research which is managed by Dunbar and District History Society.
This old historic building now displays old photographs of the town along with the collections of Archeology. Here, you can learn the history of Dunbar from 10,000 years ago to the present day. Visitors to this place can also experience a jail cell during a tour and can also visit the Council Chamber. The upper floors of the buildings now have a community room which is open to community and council groups for meetings, events and displays. The Council Chambers can also be booked for civil marriages, meetings and other functions.
Opening Hours And Admission
Dunbar Town House Museum and Gallery opens from Monday – Sunday in the months April – September. The timing for these months is 1 pm – 5 pm. From the month of October to March, this museum open only on weekends between 2-4 pm. Dunbar Museum is open to all and is free at all times but it may charge a fee for some fees and activities. The Museum welcomes donations which is used in running the it.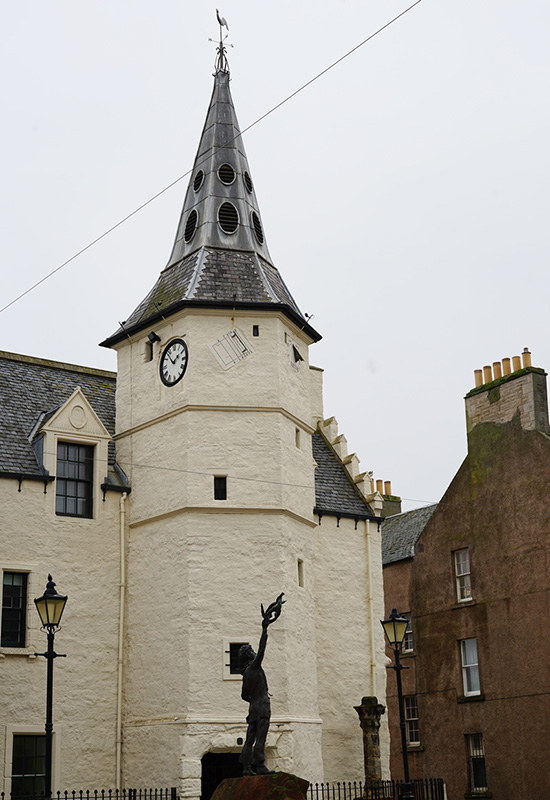 How To Reach Dunbar Museum?
Dunbar Town House Museum and Gallery is a 10 minute walk away from the Dunbar Train Station. If you are taking a bus you will find regular bus service from Edinburgh City Centre, Berwick-upon-Tweed and North Berwick. These buses run throughout the year between Dunbar and other locations. The museum can also accommodate visitors on bike. They have facility to safely park and lock the bikes right outside the museum.
Dunbar museum is located right next to John Muir Way, so can walk your way into the town house. If you are visiting by car, the museum provides for 1 hour of free parking in the High Street. For further parking and coach parking, the parking has to be done at Dunbar Leisure Pool. Electric car owners can charge their cars at Bleachingfield Car Park and Spott Road.
The gallery does not have a dedicated website and uses Authority Website https://www.eastlothian.gov.uk to update about its events and plans. The staff is also quite active on Facebook and Twitter. Dunbar Museum welcomes group visits but would like a pre intimation and update. The place is also disabled friendly, so, if you are looking for details you can find them here on Disabled Go website.